Research And Development On Global Scale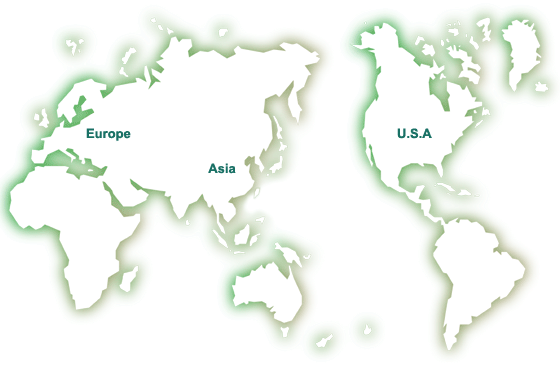 Headquartered in Taiwan, Delta invests 6% to 7% of the group's annual sales revenue in R&D and has worldwide R&D facilities China, Japan, Singapore, the U.S.A., and Europe. In 2018, Delta has over 9,000 R&D engineers throughout the world with R&D activities coordinated on a global scale.
Delta's labs at Research Triangle Park in North Carolina, U.S.A., include the Delta Power Electronics Laboratory, which develops high-efficiency and high-density power conversion products, and the Delta Networks R&D Laboratory, which develops networking products. Delta's R&D team in Soest, Germany, focuses on developing key power supply products and technologies for various applications such as hybrid vehicles, super computers, high-end server storage, telecommunications, datacenters, and wind power converters.
Among Delta's 23 R&D centers in China, Delta Power Electronics Center (DPEC) in Pudong, Shanghai was established in 1999 to aggressively develop advanced energy-saving technologies. We also have CNAS (China National Accreditation Service for Conformity Assessment) accredited laboratories in Shanghai, Guangdong, and Jiangsu, as well as post Ph.D. innovation stations in our R&D centers in Shanghai and Jiangsu.
Cultivation for R&D Talents
Delta has also made long-term investments in cultivating R&D expertise and innovation. Delta has joint R&D programs with U.S. universities such as MIT, Virginia Polytech, Case Western Reserve University, as well as Taiwan's National Cheng-Kung University, National Central University, and National Taiwan University, and other top schools in both Taiwan and China. In China, the Delta Foundation has established the "Delta Power Electronics Science and Education Development Program" and the "Delta Scholar Program," which are involved in co-developing a variety of advanced energy-efficient products and technologies with eight top universities.
Delta Innovation Highlights
Our capability for innovative design is what sets us apart from the competition. With our core competence in power management, we are rapidly expanding into several related businesses such as: power systems for datacenters, cooling fans and thermal solutions, industrial automation systems, powertrain solutions and power electronics components for EVs/HEVs, high-end projection systems, LED lighting, and renewable energy. We are also actively pursuing development in new areas such as medium voltage drives (MVD), converters for wind turbines, and green buildings.
Delta's telecom power supplies lead the industry with an energy conversion efficiency of up to 98%. In 2012, Delta successfully developed the world's first titanium-grade server power supply with an efficiency rating reaching 96%. For onboard chargers for electric vehicles, Delta takes advantage of high power efficiency of up to 96% with greater user-friendliness, protection, and network integration. In recent years we have developed high-density and high-efficiency products and solutions which allow the general public to enjoy our innovative green technology. For fan and thermal management, Delta is actively leveraging low-power consumption and low-noise designs to extend our product lines into smart air exchange fans, hot-air blowers and thermal exchangers.
International Recognition
Delta's R&D integration ability, product innovation, and design capabilities have won international recognition on numerous occasions. Since 2010, Delta has continuously received internationally recognized design awards including the iF, Reddot, CES Innovation, Computex Best Choice, and Taiwan Excellence awards. Our national honors for innovation include the Taiwan National Industry Innovation Award and the Thailand Prime Minister's Industry Award. Delta also ranked in the top 500 globally in corporate R&D expenditures according to the 2007 R&D scoreboard compiled by the United Kingdom's Department of Innovation, Universities, and Skills. These top awards recognize Delta's embrace of energy-saving, sustainability and value creation as core values as well as our innovation in system integration, design, channels, brand and service.