DELTA SLIM FAN TECHNOLOGY DELIVERS SMOOTH, EFFICIENT COOLING FOR MOBILE DEVICES
Today's mobile devices demand cooling power with minimal power consumption and noise level in the slimmest designs. Delta is meeting the demands faced by engineers working with the next generation of ultra slim devices. In fact, many name brand slim mobile devices are already using Delta slim blowers and thermal modules to achieve maximum cooling and to minimize noise.
Traditional vs. Coreless Design
Delta's ultra slim thermal modules feature a heat pipe that is less than 1.5 mm thick for precise performance in slim thermal mobile solutions.
Delta's current slim blowers are equipped with a 3 phase motor, PWM speed control, and many revolutionary mechanical designs. They are widely used to cool many ultra slim portable devices that we use every day.
The next generation coreless motor design slim blowers provide a 'less than 5.0mm thickness solution' while achieving high efficiency, low vibration and reduced noise.
Traditional vs Coreless

A Typical Setup of a Delta Blower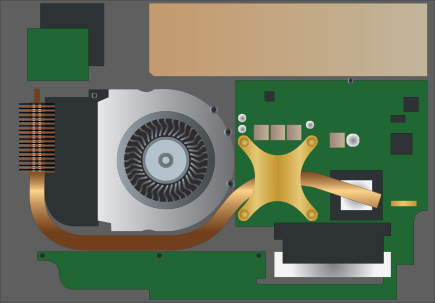 For more information on our server and storage solutions contact us at dcfansales.us@deltaww.com