HIGHER DENSITY SYSTEMS INCREASE DEMAND FOR COOLING POWER WITH REDUCED VIBRATION
Cooling space isn't the only area that is shrinking. Today's systems are higher density which means more powerful fans are needed to remove heat. At the same time, higher speed and capacity hard drives are more vulnerable to vibration. Engineers need high airflow/pressure and lower vibration solutions to meet these extreme performance requirements.
Delta is meeting these new requirements with:
High efficiency blade design that avoids airflow separation, optimizing rotor and stator blades for higher efficiency
Optimized motor or 3 phase design
Advanced motor control circuit
Dual plane balancing
Strengthened fan structure or optional material
Blade Design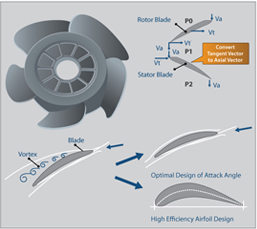 Fan Efficiency vs. PQ Curve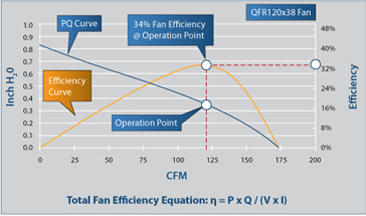 Many of the fans found in leading brands of servers and storage centers are made by Delta. Choose from one of our FFB, GFB, QFR, PFB and PFR series fans for a solution that is right for you..
A Typical IU Server with Delta Fans