SELECTIVELY DEVELOPED FANS TO POWER SEAT VENTILATION SYSTEMS
IMPROVED SEAT COMFORT AND TEMPERATURE REGULATION WITH DELTA FANS.

Traditional car seating systems provide either passive benefits via design, material choices, or active heating. Newer, more robust systems focus on cooling and overall comfort via temperature regulation. Delta has developed blower fans that meet and exceed the expectations of both our customers and their end users in this newer and demanding area. The design choices lend them to having high performance, low vibration, reduced operating noise, improved sound quality, EMC protection, IP protection, and PWM speed control. Each of these play a role in how an end user might accept or reject the overall seat ventilation system. Years of development and working with partners has enabled Delta to offer this purpose-driven fan line to power seat airflow with all these characteristics tuned to the needs of the user while providing both push and pull functionality to properly regulate airflow as a key aspect of comfort. All of which can help drivers and their passengers reduce their fatigue over short or long journeys.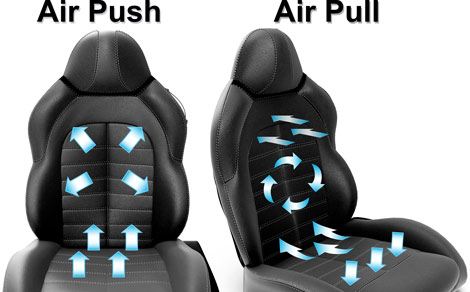 SEAT VENTILATION APPLICATION

Delta's automotive product line supports
- Fan Push/Pull Air to Seat Surface Directly.
- Fan Mount on Cushion or Back and Connect with Duct or Special Structure
• High Performance
• Low Vibration
• Lower Noise
• EMC Protection
• IP protection
• PWM Speed Control
New Seat Ventilation blowers adding comfort for your driving experience:
The active seat ventilation ensures that air circulates throughout the surface of seat. It provides the ultimate comfort for drivers and helps to prevent driving fatigue.
(roll over image to zoom in or click on images/PN to get more details)
Part number
(Download spec sheets)
Dimension
(mm)
Operating Voltage Range (VDC)
Voltage (VDC)
Bearing type
Current (A)
Power (W)
Speed (RPM)
Noise (dB-A)
Air Flow (CFM)
Air Pressure(in H2O)
Operating Temperature (C)
BFB1012HD-04D4L
100x98x20
90.0~16.9
12 VDC
Ball
0.58 A
6.96 W
4000 RPM
50.5 dB(A)
18.30CFM (0.50 m3/min)
1.62 inchH2O (40.60 mmH2O)
-40~+85⁰C
BFB0712HHD77
76x76x25
9.0~16.0
12 VDC
Ball
0.53 A
8.15 W
5500 RPM
50.0 dB(A)
14.70 CFM (0.41 m3/min)
1.41 inchH2O (35.9 mmH2O)
-40~+85⁰C
Part number
(Download spec sheets)
Dimension
(mm)
Operating Voltage Range (VDC)
Voltage (VDC)
Bearing type
Current (A)
Power (W)
Speed (RPM)
Noise (dB-A)
Air Flow (CFM)
Air Pressure(in H2O)
Operating Temperature (C)