Delta thermoelectric coolers (TEC) provide slightly below ambient cooling in tight spaces. A TEC module is a sandwich of components (Peltier chips, heat sinks and fans) which provides cooling without the need for refrigerant or a compressor. All Delta TEC's incorporate Delta DC brushless fans engineered to run continuously for 80,000 hours, or nine years. Standard and custom designs are available.
Estimate your required cooling capacity by clicking here :
Features and benefits include:
High quality Delta DC brushless fan component for reduced energy consumption and low noise.
Built-in controller.
Self-test function and LED alarms.
LED status indicator.
Low noise.
Wide operating temperature range.
IP55 protection.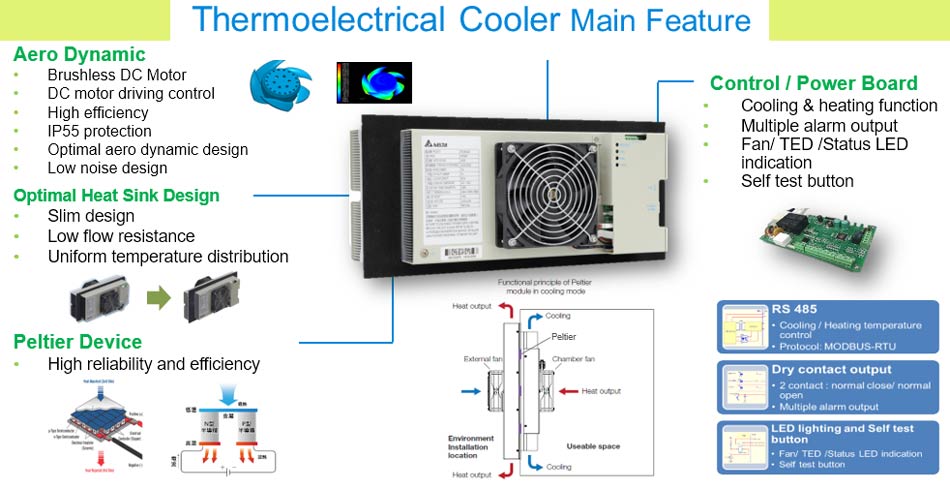 PRODUCT LISTS
48VDC
Part number
Cooling/heating
Capacity
Dimensions
(inch)
Dimensions
(mm)
Rated Voltage
(VDC)
Operating Current
(A)
Noise (dB-A)
@1.5M
Weight
(lbs / kg)
Approvals
Indoor / Outdoor
HET200PB-A01
200 W
7.1H x 15.7W x 8.2D
180H x 400W x 208D
48
7.4
62
19.8 / 9.0
UL , CUL, TUV, CE
Outdoor
HET400PA-A01
400 W
8.3H x 17.7W x 9.0D
210H x 450W x 228D
48 VDC
11.7
65
24.2 / 11.0
UL Recognized, CE
Outdoor
HET400PA
400 W
8.3H x 17.7W x 9.0D
210H x 450W x 228D
48 VDC
11.7
65
24.2 / 11.0
UL Recognized, CE
Outdoor
HET200PC-B
200 W
7.1H x 15.7W x 5.6D
181H x 400W x 143D
48
7.4
66
13.2 / 6.0
UL , CUL, TUV, CE
Outdoor
HET200PC
200 W
7.1H x 15.7W x 6.6D
181H x 400W x 169D
48
6.1
62
13.2 / 6.0
UL , CUL, TUV, CE
Outdoor
HET200PB
200 W
7.1H x 15.7W x 8.2D
180H x 400W x 208D
48
7.4
62
19.8 / 9.0
UL , CUL, TUV, CE
Outdoor
Part number
Cooling/heating
Capacity
Dimensions
(inch)
Dimensions
(mm)
Rated Voltage
(VDC)
Operating Current
(A)
Noise (dB-A)
@1.5M
Weight
(lbs / kg)
Approvals
Indoor / Outdoor
24VDC
Part number
Cooling/heating
Capacity
Dimensions
(inch)
Dimensions
(mm)
Rated Voltage
(VDC)
Operating Current
(A)
Noise (dB-A)
@1.5M
Weight
(lbs / kg)
Approvals
Indoor / Outdoor
HET200VB
200 W
7.1H x 15.7W x 8.2D
180H x 400W x 208D
24
12.2
61
19.8 / 9.0
UL Recognized, CE
Outdoor
HET200VC
200 W
7.1H x 15.7W x 6.6D
181H x 400W x 169D
24
12
62
13.2 / 6.0
UL , CUL, TUV, CE
Outdoor
HET200VB-A01
200 W
7.1H x 15.7W x 8.2D
180H x 400W x 208D
24
12.2
61
19.8 / 9.0
UL Recognized, CE
Outdoor
HET200VC-A01
200 W
7.1H x 15.7W x 6.6D
181H x 400W x 169D
24
23
62
13.2 / 6.0
UL , CUL, TUV, CE
Outdoor
Part number
Cooling/heating
Capacity
Dimensions
(inch)
Dimensions
(mm)
Rated Voltage
(VDC)
Operating Current
(A)
Noise (dB-A)
@1.5M
Weight
(lbs / kg)
Approvals
Indoor / Outdoor